Mobile Health Unit to provide free blood pressure checks for people across Ireland  

Funding service expansion for 12 months from 1 June 2018

Baxter International Foundation will fund the programme for 12 months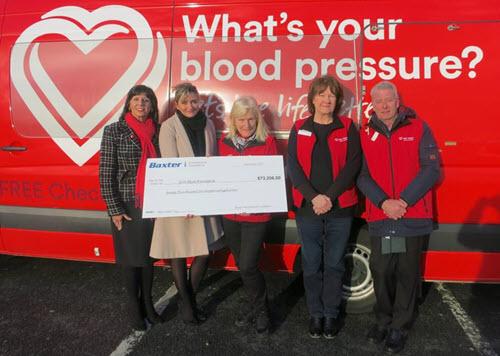 Dublin, IRELAND -
The Baxter International Foundation has awarded a grant of approximately €60,000 to the Irish Heart Foundation for the expansion of its Mobile Health Unit to communities across Ireland. The charity's Mobile Health Unit incorporates two professional consultation rooms where attendees can receive free, non-invasive blood pressure checks. Nurses will provide individualised lifestyle advice and information on next steps including managing blood pressure and following up with a GP, if necessary.
High blood pressure, a major cause of stroke and heart attack, is one of the most prevalent risk factors in the population and one which once identified is very manageable, thereby reducing risk. A blood pressure check is a simple, quick and non-invasive test that could prove lifesaving. In its first year, the Irish Heart Foundation's Mobile Health Unit tested the blood pressure of more than 11,000 people in 26 counties across Ireland. Two in five people who took advantage of this free blood pressure check at the mobile clinic were found to have high blood pressure.
Dr Angie Brown, Medical Director of the Irish Heart Foundation, said: "While most people have heard of high blood pressure, many still don't understand the importance of having it checked. Right now in Ireland, close to one million adults have the condition but half of them don't know it. Hypertension can lead to a 7 x increased risk of stroke and a 22% increased risk of heart attack."
Andy Goldney, General Manager, Baxter UK, Ireland and Nordic, said: ''The mission of the Baxter International Foundation is to make a meaningful difference in patients' lives by providing access to healthcare services. We are delighted to be able to support the Irish Heart Foundation to provide this essential service which enables earlier detection of critical illnesses.''
About Baxter and The Baxter International Foundation
Baxter and The Baxter International Foundation are committed to saving and sustaining lives and creating healthier communities. Every day, Baxter employees strive to make a meaningful difference in the lives of people who depend on Baxter products, and in the communities where employees live and work. The company focuses on three core areas including improving
access to healthcare; fostering tomorrow's innovation and serving its communities. Baxter works closely with public and private partners around the world to ensure people have access to the healthcare they need, to develop the next generation of innovators who will lead the way in advancing care, and to create long-lasting impact in Baxter's communities. The Baxter International Foundation supports initiatives and organizations that make a positive, lasting impact on increasing access to healthcare for the disadvantaged and underserved.
About Baxter in Ireland
Baxter provides a broad portfolio of essential healthcare products across its portfolio, including acute and chronic dialysis therapies; sterile IV solutions; infusion systems and devices; parenteral nutrition therapies; inhaled anaesthetics; generic injectable pharmaceuticals; and surgical haemostat and sealant products. The company's global footprint and the critical nature of its products and services play a key role in expanding access to healthcare in emerging and developed countries. Baxter's employees worldwide are building upon the company's rich heritage of medical breakthroughs to advance the next generation of healthcare innovations that enable patient care.
About Irish Heart Foundation
The Irish Heart Foundation is the national charity with a mission to eliminate premature death from heart disease and stroke in Ireland. It works to affect positive change in the lifestyles of Irish people, to achieve better outcomes for those affected by heart disease and stroke and to challenge when the health of the nation is put at risk.